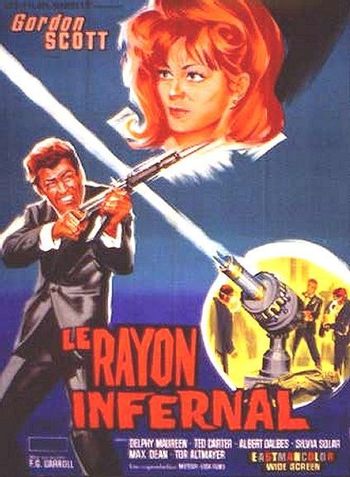 Also known as Il Raggio Infernale and Nest of Spies (Nido de Espias), this Italo-Spanish spy film was one of the many to ride the wave of James Bond-style knock-off spy thrillers in the '60s and '70s.
The plot, such as it is, follows the adventures of American super spy Bart Fargo as he chases down the kidnapped professor Carmichael, creator of the eponymous death ray (which, the professor must stress, was only created to be used for "peaceful purposes..."), and save him from a poorly-defined evil organization which doesn't share the professor's... unique world view. Following the trail (and bouncy soundtrack) from Italy to Spain, Fargo must contend with the usual assortment of spies, Femme Fatale and one really, really violent Abraham Lincoln (trust us on this one) in order to make the world safe for all peace-waging death ray-wanting countries everywhere.
For the Mystery Science Theater 3000 version, please go to the episode recap page.
---
This film provides examples of:
---