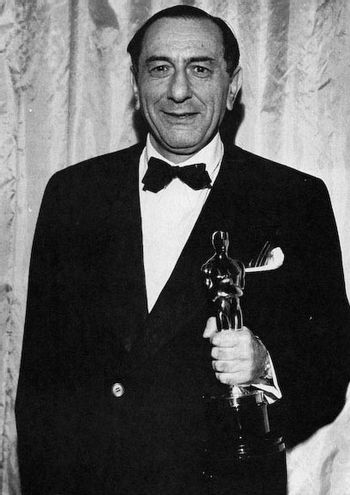 "I've been to Paris, France and I've been to Paris, Paramount. Paris, Paramount is better."
— Ernst Lubitsch
Ernst Lubitsch (January 29, 1892 – November 30, 1947) was The Pioneer of a non-flashy kind. His films don't have over-the-top obvious editing gimmicks, or lighting and Epic Tracking Shot that movie students will go squee about. But he was in his own way, as innovative as Sergei Eisenstein and John Ford. He was highly respected in his lifetime and famous enough that promoters talked about "The Lubitsch Touch", a distinctive style that defined his films.
He's best known for Ninotchka, the film where Greta Garbo laughs. He's also known for the musicals and comedies he made in The Pre Code Era, especially Trouble in Paradise. His film The Shop Around the Corner is still well known today and widely seen, starring James Stewart and Margaret Sullavan; he later cited it as one of his favorite films. It was remade as You've Got Mail. His anti-Nazi comedy To Be or Not to Be was even cited by Quentin Tarantino for Inglourious Basterds.
Lubitsch began his career in Germany in the 1910s where he made his name as a maker of historical Epic Movie, in which he occasionally appeared as an actor. He gradually found his mark as a comedy director in films like The Oyster Princess and The Wildcat. His films were hits around the world and Mary Pickford herself was interested in working with Lubitsch, inviting him to work in Hollywood. The resulting collaboration didn't work out all that well, but Lubitsch stuck around and made films that were successful and original elegant comedies. His The Marriage Circle and his adaptation of Oscar Wilde's Lady Windermere's Fan were seen as incredibly advanced and sophisticated attempts at telling adult dramas within the limitations of silent film. When sound arrived, Lubitsch became a major innovator with one of the earliest musicals, The Love Parade (1929), starring Maurice Chevalier and Jeanette MacDonald. This led to a series of films with the duo that created a kind of musicals which were Ruritanian Romance with fairy tale landscapes that contrasted with the adult Love Dodecahedron that audiences recognized as being very 20th Century. This was made during The Pre-Code Era and as such Lubitsch got away with a lot more in these films than would be possible later.
Lubitsch eventually found his mark with Trouble in Paradise, the film which made him associated with sophisticated comedies about adults who kept moving between relationships and were pretty interested in sex outside of marriage and monogamy. These elegant comedies have a distinct style. Scenes are underplayed, emotions are subtle and nuanced, and while it's funny, the laughs aren't slapstick either. This came to be called "The Lubitsch Touch" and barring occasional experiments like the underrated Broken Lullaby, a war film, he made comedies for the rest of his life, right up to Cluny Brown, his post-war comedy. He served as The Mentor to Billy Wilder, who worked as screenwriter on his films and was a personal friend. Wilder would hang a message in his office reading, "What would Lubitsch do?"
---
Ernst Lubitsch films on this wiki:
---