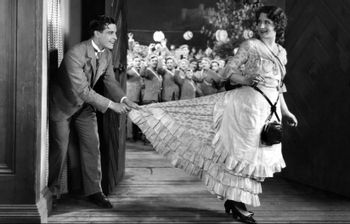 The Student Prince in Old Heidelberg is a 1927 romantic comedy starring Ramon Novarro and Norma Shearer, and directed by the great Ernst Lubitsch.
Prince Karl Heinrich (Novarro) is the crown prince of a strongly Germanic kingdom called Karlsburg note (In the original play it is the duchy of Saxe-Karlsburg) . He has grown up in the court of his uncle the king, living a lonely, cheerless life. His only friend is his avuncular tutor, Dr. Juttner (Jean Hersholt). After reaching adulthood Karl Heinrich goes off to study at the military college, Heidelburg, with Dr. Juttner as an indulgent chaperone. There he gets to have fun for the first time in his life, discovering the joys of beer drinking and boisterous fraternity life, as well as finding love with Kathi, the pretty, good-hearted barmaid (Shearer). Yet the pressures of court life loom back home, threatening to destroy Karl Heinrich's happiness and chance at love.
The Student Prince in Old Heidelberg was based on the novel Karl Heinrich (1898) and the stage play adaptation, Alt-Heidelberg (Old Heidelberg, 1901), both by Wilhelm Meyer-Förster. It also owes a debt to the highly successful operetta version of the story by Sigmund Romberg, The Student Prince, which had debuted on Broadway to great acclaim in 1924. (The film does not use any of the operetta's music.) The Student Prince in Old Heidelberg bombed when it ran in theaters but is recognized today as a career highlight for Novarro and the first great film directed by Lubitsch.
---
Tropes: