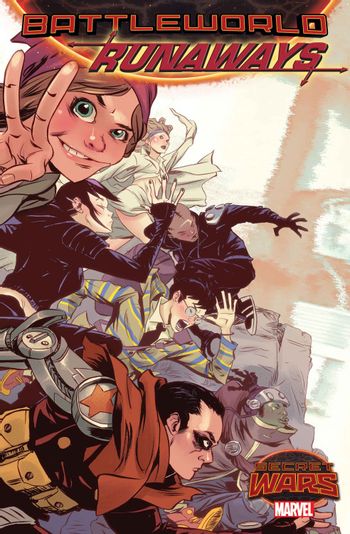 WARNING
This article contains spoilers, often unmarked, from Marvel Comics
Secret Wars (2015)
event.
Secret Wars (2015) brought us destruction of the Marvel Universe as well as The Multiverse and creation of a new Battleworld, made from surviving parts of different Universes and ruled by the iron fist of Doctor Doom. At its capital, Doomstadt, there is a Superhero School, attended by the most promising young individuals from all the Battleworld's domains. However, when a group of students discovers the headmaster has a hidden, nefarious agenda and the school is really an Academy of Evil in disguise, they decide there is only one thing to do.
Written by Noelle Stevenson (Nimona, Lumberjanes), this series is a more of a Spiritual Successor than a straight sequel to the 2003 Cult Classic Runaways series, following a different cast of characters, but using similar premise to that of the original series. The team roster is composed from alternate versions of various kid and teen superheroes from across Marvel's entire history.
Team Members
Tropes Associated with 2015 series. For tropes about previous Runaways series go here.
---