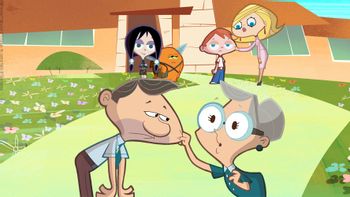 Matt's Monsters
is an animated series produced in 2009 and broadcast by
Disney Channel
.
In a World… where monsters live freely among the humans and cause trouble, a boy called Matt Average runs a monster hunting company to help the people from the tranquil city of Joliville. He will tag along Bruce, his over-enthusiast father; Dink, his friendly monster pet; and Manson, the laid-back Gothic Girl Next Door. Together, they form the Average company, which will give the dangerous monsters a run for their money.
---
This show provides examples of:
Beware the Nice Ones: In an episode Sonja is required to scream with fury at an oak monster in order for it to free her, and her angry voice is enough to impress Manson.
Cyborg: Implied with Appendix, whose cranium has a metallic half.
Embarrassing Slide: In an episode the Monster Agency is presenting a slideshow about monsters to the mayor when Matt accidentally slips several photos of his father partying and dancing while dressed in drag. No words are needed.
Fake Band: "Metal Finish", Manson's favorite music band, which according to her plays neo-Gothic thrash metal.
Evil Twin: Straight and subverted. One episode reveals Dink had an evil identical cousin who held a grudge against him for overshadowing him throughout his life. However, at the end it's revealed that Dink was not his cousin and that there is a third Dink-like monster somewhere.
Spot the Imposter: In the episode involving Dink's evil, identical cousin, this scenario naturally shows up eventually. Matt is able to sort out who is the real Dink by throwing a kernel at the two, which Dink immediately pops with his electricity (see also Shock and Awe above).
Stealth Hi/Bye: Manson typically appears suddenly behind people, which startles Bruce in particular. Her very first apparition in the series sees her sneaking undetected in the Monster Agency van, all while wearing a monster costume.
Summon Bigger Fish: The Average company does this in a gruesome manner to take a large Blob Monster made of mold. After getting trapped by the monster, Matt and Dink just flush their own Blob Monster Mika, who swiftly devours the monster to nothing.
Tomboy: Manson and Madame Bovary.
Unfazed Everyman: Most of the people of Joliville see monster attacks as they would see problems in their pipes.
The Unintelligible: Dink speaks in his own language, which only Matt can understand.