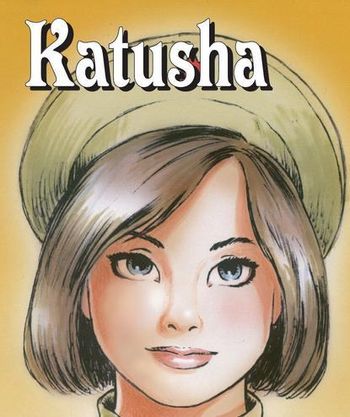 No one was safe. Innocence counted for nothing. The very young and the very old suffered as much, if not more, than the soldiers in the field. In this conflict, Soviet women fought—and sometimes died—beside their men. They served as fighter pilots and scouts. Some were machine gunners and communications experts. Others were medics and snipers......and some, like me, rode the weapon that, more than any other, won the war on the Eastern Front— the tank. My name is Ekaterina Andreaevna Tymoshenko, and this is my story.
— Opening narration
Written and drawn by Wayne Vansant, a veteran of The 'Nam and other realistic military comics, Katusha tells the story of a young Ukrainian girl and her family living in Kiev when Nazi Germany invades the Soviet Union. After the Germans occupy Ukraine, she joins a band of partisans led by her Uncle Taras, an escaped political prisoner, and eventually ends up as a tank commander in the Red Army.
As of 2019, Katusha is no longer a webcomic, but a 585-page print volume containing the entire series is available.
---
This comic provides examples of: