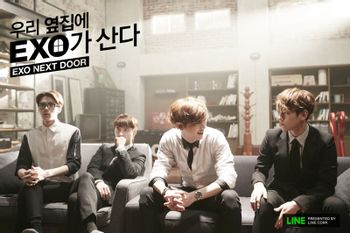 Yeonhee: The thing is, my neighbor... is EXO!
Gaeun: Your mother treated you so badly that you finally lost it.

23-year-old Ji Yeonhee suddenly finds that four members of the
Korean
Boy Band
EXO
have moved into the house next door. The boys came to the house on the request of Chanyeol, whose late grandfather owned the house and who is looking to find the duplicate copy of a necklace he broke, which was given to him by his grandfather, in order to put a stop to his recent string of misfortunes. Amidst quite a few
extremely mortifying encounters,
Yeonhee becomes the boys' maid, and she learns that one member of the world-famous group
isn't as far apart from her
as she believes.
EXO Next Door is a Web Original Korean Series presented by Naver TV Cast in 2015, starring Moon Gayoung and members of the Korean Boy Band EXO (playing fictionalized versions of themselves). Despite the drama being a Cringe Comedy, it became one of the most popular web series in Korea with 50 million views; leading to CJ E&M re-editing it into a film version, which was then sold to overseas buyers at the 68th Cannes Film Market.
---
This show contains examples of:
---