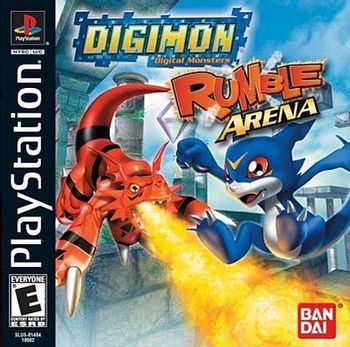 Digimon Rumble Arena
is a series of 2.5D
Platform Fighters
centered around the
Digimon
franchise, and are among the few Digimon games which are tied into any of the anime series. The series plays not unlike
Super Smash Bros.
, except it retains the traditional fighting game health bar. Similar to the situation with the western renaming of
Digimon World DS
and
its
sequels
, it's only really a series in th-e west; the Japanese names are significantly different from each other.
Digimon Rumble Arena (Digimon Tamers: Battle Evolution in Japan) was released for PlayStation as a tie-in to the then-ongoing Digimon Tamers anime series, and so the stylistic influence of Tamers is the most prevalent in the game. Despite that, all three then-current series of Digimon were near-equally represented. Most playable characters have access to one evolutionary form, almost uniformly the character's final form (Wormmon being the exception). The Japanese version's soundtrack consisted of remixes of tracks from the anime, all of which were cut and replaced in the translated version. It sold rather well.
Digimon Rumble Arena 2 (Digimon Battle Chronicle in Japan) was a multiplatform release for the PlayStation 2, GameCube, and Xbox. The game's scope was expanded to include characters from Digimon Frontier. However, the game's focus was clearly on the characters of Digimon Adventure, with all eight main Digimon playable; every other series represented got just two representative Digimon at best. For most playable characters, two Evolutionary Levels are now available. Being that it was released at a time with no ongoing Digimon anime series to support it, it was much less of a commercial success than its predecessor.
See also Digimon Battle Spirit, which is pretty much the same thing for Game Boy Advance and WonderSwan.
Ready? TROPE!
---