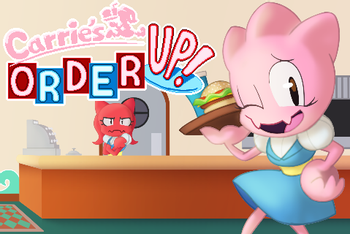 Carrie's Order Up! is an arcade-style video game designed by Zachary "Cleave" Rudolph, featuring music by Brandon "InkyFirefly" Strong.
Players take control of Carrie, a waitress crab, as she scuttles around a port-side restaurant, serving orders for all manner of sea-life as they come through the door. But once Carrie starts working, she just can't stop! So you'll have to use quick reflexes and your graceful pirouette to dodge customers and avoid bumping into them. As you progress, your restaurant moves onto new locations with even more space where you'll have to keep track of customers, as well as new hazards like leaky plumbing and littering patrons!
The main game consists of twenty rounds, and each can be replayed to complete numerous challenges and unlock new modes.
You can grab it on itch.io
!
No relation to the other Order Up!!
---
Tropes featured in Carrie's Order Up!: