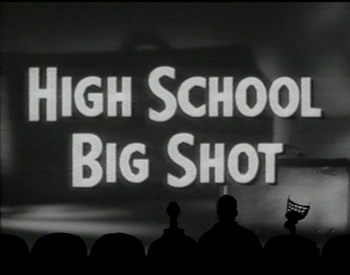 Film watched: High School Big Shot with the short Out of This World
The Segments:
Prologue
Mike has a bad headache, which is worsened when Crow practices his cymbals, Tom plays some bagpipes, and Gypsy can't stop laughing about Seinfeld.
Segment 1
Crow manages to stop Mike from using a drill to relieve the pressure in his head. Dr. Forrester gives everyone chemistry sets so they can do his work for him. Frank manages to clone a baby dinosaur that doesn't really like Dr. F. Tom ingests a potion that turns him into a hulking giant.
Segment 2
Mike and the Bots dress up as bread truck delivery drivers to showcase their new line of unusual specialty breads.
Segment 3
Crow and Tom proceed to drive by and egg Mike with omelets. And hollandaise that's too lemony.
Segment 4
Disguised as master thieves, Crow and Tom attempt to break into Gypsy's diary with dynamite. When it fails, they use more.
Segment 5
The crew re-enact the depressing ending of the movie with squirt guns. In an attempt to keep himself safe, Dr. Forrester gives the cloned dinosaur something to chew on… in Frank's pants.
The MST3K presentation contains these tropes:
---
---