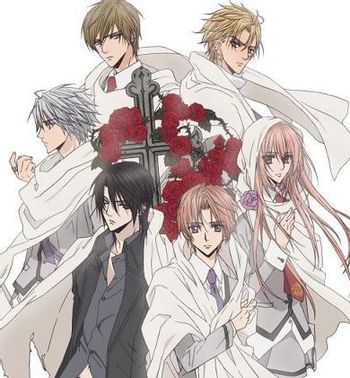 Betrayal Knows My Name (Uragiri wa Boku no Namae wo Shitteiru, AKA Uraboku) is a Shoujo manga by Odagiri Hotaru, which was serialized in Monthly Asuka from 2005 to 2017 and distributed in English by Yen Press. An 24-episode anime adaptation by J.C. Staff aired in 2010 and can be watched on Crunchyroll for free.
Abandoned at birth, Sakurai Yuki grew up in an orphanage where he led a relatively normal life for fifteen years, despite strange recurring dreams and a mysterious ability to sense others' emotions when touching them. However, he soon finds himself unable to control this ability as it grows stronger over time, and it ends up causing several problems with the people around him.
One day, the head of the Giou clan arrives at the orphanage and claims to be his older brother. Yuki suddenly finds himself the target of monstrous beings called Duras when he is saved by a hauntingly beautiful stranger named Zess. Swept into a battle between powers he doesn't understand, Yuki must learn the truth about his past and his destiny in order to survive.
---
This manga contains examples of:
---