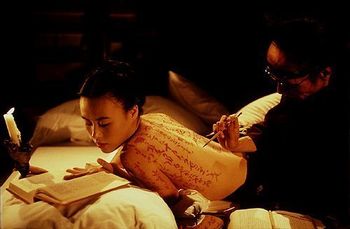 When I come into the room to serve Her Majesty and see the other women have already crowded around her, I sit next to a column apart from them. Her Majesty sees me and calls. I love it when the others make way for me when I go to sit next to her.
— Sei Shonagon
The Pillow Book is one of the masterpieces of Japanese literature. Written during the Heian period by Sei Shonagon, lady-in-waiting of Empress Teishi, it is an impressionistic compendium of hundreds of things classified by categories ("Rare things", "Things that make the heart beat faster", "Things that bring up fond memories of the past", etc.) as well as everyday scenes at the Japanese imperial court at the turn of the 11th century.
Peter Greenaway used the book as a basis for a movie, also titled The Pillow Book, which focuses on Kiyowara Nagiko, a modern-day fan and emulator of Sei Shonagon. Vivian Wu plays Nagiko and Ewan McGregor her Western boyfriend.
---
Contains examples of:
Original work:
Movie version:
---