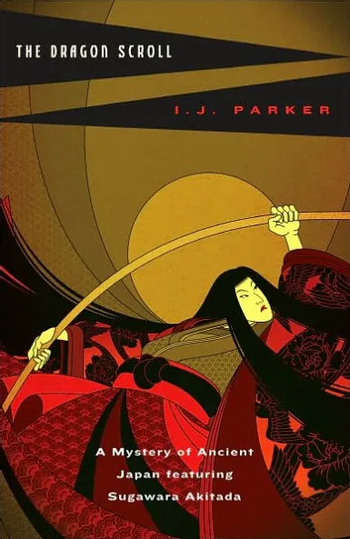 Sugawara Akitada lives in Heian Japan. Like his father and ancestors, Akitada went through the education necessary to become a scholar-official. Unfortunately, his father died before Akitada completed his education, leaving Akitada as his family's sole breadwinner. In addition to a hostile mother, Akitada has to provide for two younger sisters and a small staff of family retainers.
To make ends meet, Akitada works as a junior clerk in the Ministry of Law. In addition to his government work, Akitada's inquisitive and clever mind makes him seek out mysteries to solve and criminals to bring to justice. While his stubbornness gets him in trouble with his superiors more often than not, his steadfast resolve earns him several allies, chief among them being his elderly manservant Seimei and his bodyguard Tora. From disappearing tax convoys to blackmail at the Imperial University to a past murder coming back to haunt the present, Akitada's civil service job is anything but boring.
The Sugawara Akitada series is a series of historical mystery novels by Ingrid "I.J." Parker. While Parker began writing the novels first, it was the short stories that kicked off the series.
This series includes the following titles:
Novels
Arranged in chronological order:
The Dragon Scroll (2005)
Rashomon Gate (2002)
Black Arrow (2006)
Island of Exiles (2007)
The Hell Screen (2003)
The Convict's Sword (2009)
The Masuda Affair (2010)
The Fires of the Gods (2011)
Death on an Autumn River (2011)
The Emperor's Woman (2013)
Death of a Doll Maker (2013)
The Crane Pavilion (2014)
The Old Men of Omi (2014)
The Shrine Virgin (2015)
The Assassin's Daughter (2015)
The Island of the Gods (2015)
Ikiryo: Vengeance and Justice (2017)
The Kindness of Dragons (2018)
The Nuns of Nara (2019)
Massacre at Shirakawa (2020)
The Lucky Gods of Otsu (2021)
The Temple of the Dead (2022)
Short stories
These short stories were first serialized in
Alfred Hitchcock's Mystery Magazine
.
"Instruments of Murder" (1997)
"The Curio Dealer's Wife" (1997)
"A Master of Go" (1998)
"Akitada's First Case" (1999)
"Rain at Rashomon" (2000)
"The New Year's Gift" (2001)
"Welcoming the Paddy God" (2001)
"Death and Cherry Blossoms" (2002)
"The O-Bon Cat" (2003)
"The Kamo Horse" (2003)
"The Tanabata Magpie" (2005)
"Moon Cakes" (2007)
"The Incense Murders" (2009)
"The Water Sprite" (2011)
"Fox Magic" (2011)
"Confessions" (2012)
---
This series provides examples of:
---