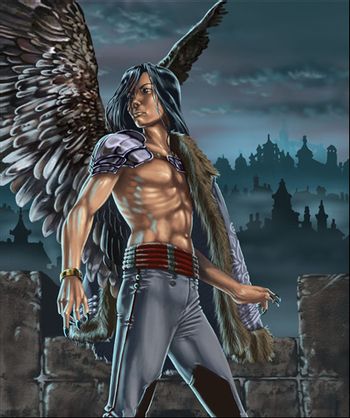 I can promise a snow-covered country haunted by ghosts, a murdered lord, a shadowy drakhaoul-daemon with a craving for innocent blood, unrequited love, imperial ambitions, court intrigue, an ancient legend about a dead emperor's cursed rubies.
A trilogy of fantasy novels by primary school teacher Sarah Ash, consisting of Lord of Snow and Shadows, Prisoner of the Iron Tower, and Children of the Serpent Gate.
Gavril Nagarian is a simple painter living in the idyllic nation of Smarna, on the continent of Rossiya. His life gets turned upside-down one day when a band of warriors from the Grim Up North of Azkhendir approach him stating that he is the son of their recently-deceased king, and he must take his father's place. What follows is an elaborate character-driven fantasy saga featuring...well, all the elements mentioned in the page quote.
Mrs. Ash has also written a dual book prequel series, The Alchymist's Legacy, dealing with the youth of Estael, the original trilogy's left-hand-man to the bad guy. It also focuses on the earlier lives of Ruaud de Lanvaux, Celestine de Joyeuse, and Jagu de Rustéphan and how they all came to associate with one another in The Tears of Artamon. Tracing the Shadow is the first book, taking place for the most part before the events of the original trilogy; Flight Into Darkness, the second and last book, entails the "behind the scenes" events taking place concurrently with it.
---
The Tears of Artamon provides examples of:
---