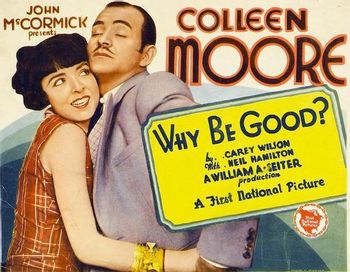 From the transitional year of 1929, the beginnings of sound and the slow decay of silent films, comes this fun, slightly raunchy comedy.
Pert Kelly (Colleen Moore) is just another cool gal having a night on the town when she meets a dashing young man. Both are smitten, so they promise to meet each other the next night. But with morning comes reality, Pert works at a department store, and her new boss is the young man, Winthrop Peabody Jr (Neil Hamilton), she met last night. He's no longer fun; a stuffed shirt, son of the owner, who's now working in personnel.
A series of comic misunderstandings, and the inevitable answer to the film's question, make this a newly discovered classic silent film.
Colleen Moore's portrayal of Pert is the epitome of the classic flapper: the bob, the dresses, and lest we forget, the dancing and parties are central to the story, and just downright fun.
A pre-stardom Jean Harlow can be seen very briefly as a background character at the 70-minute mark.
---
Tropes: