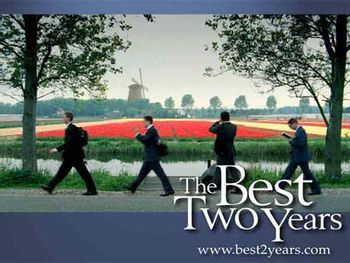 The Best Two Years is a 2003 comedy-drama film, written and directed by Scott S. Anderson, about the various experiences of four Mormon missionaries in the Netherlands. The story addresses one missionary's crisis of faith, along with the rather universal themes of annoying roommates, frustration at one's job, being the new person, and public embarrassment.
The movie opens with a brand-new missionary, Elder Calhoun (Kirby Heyborne), arriving in Holland on a train. He is a very gung-ho cowboy/nerd from Oklahoma who can't speak a word of intelligible Dutch and understands little more. His companion is Elder Rogers (K.C. Clyde), a rather lazy missionary who likes photography. He used to be a hard worker, but news from home about his girlfriend's leaving him for another man has made him wonder just what he's doing.
The other set of missionaries are Elder Johnson (David Nibley) and Elder Van Pelt (Cameron Hopkin). Elder Johnson is the righteous one who keeps the other guys in check, but in a nice way. Elder Van Pelt is a snob who wears silky pajamas and has a funny exercise tape to which he jazzercises every morning.
---
This film provides examples of:
Ring Ring CRUNCH: One of the elders apparently smashes his alarm clock when it wakes him up.
Scenery Porn: Shots of Dutch fields and windmills.
The Swear Jar: Elder Johnson tells his companion Elder Van Pelt to hit him each time he uses the word "flip". Van Pelt kind of gets carried away with the hitting, at one point almost hitting the mission president for saying "flipping".
---