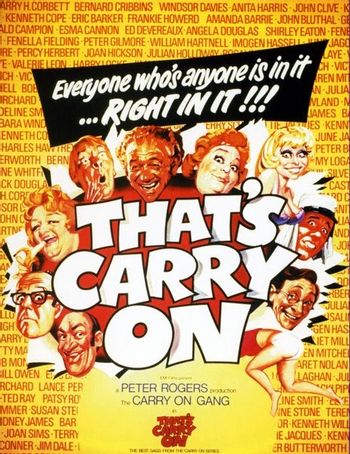 Kenneth
: Ladies and gentlemen, from 28 films...
Barbara
: And Gawd knows how many film stars...
Kenneth/Barbara
:
That's Carry On!
That's Carry On! is a 1977 Clip Show movie for the popular British Carry On film series and the 29th overall. Over 20 Carry On films had been made at the time, which gave the creators enough material to create a 90-minute film using archive clips from all the other popular movies over the last 20 years.
Most Carry On fans don't like to include this film into the franchise, considering that the film is not really a new movie, but a Clip Show with footage that "reminded" them how much the film series had "gone to the dogs" at this point, considering how much Carry On England from the year before had just convinced many that the series had gone from clever relatable humour to just another Awful British Sex Comedy (seeming how this type of comedy was becoming the latest movie trend at the time). Other fans accused this movie of trying to make back the film series' budget from the cinematic flop England, and some of the critics weren't too quick to agree. (It's rather notable that no clips from England are shown, even though that was recent. Coincidence, some may say.)
The movie stars Kenneth Williams and Barbara Windsor (two actors that notably hadn't been in England), who spend the entire movie in what is claimed to be the underground interior of Pinewood Studios - the place where most of the Carry On films were made. They spend the interluding scenes of the clips sitting around and doing domestic things while being surrounded by boilers and pipes, either making typical Carry On-like jokes or brief Continuity Nods.
---
Shows examples of:
---