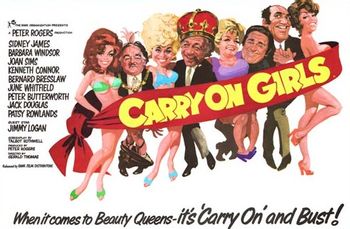 Carry On Girls is a 1973 Carry On film that starred series regulars Sid James, Barbara Windsor, Joan Sims, Kenneth Connor, June Whitfield, Bernard Bresslaw and Peter Butterworth. It was inspired through the news networks due to the raising issues of women's rights and sexism at the time, giving the production team enough material to create their own take of the subject.
The film is set in a sleepy seaside resort called Fircombe which is being pressured into taking drastic measures in order to make more money and gain tourism. Councillor Sidney Fiddler (James) suggests to the Mayor (Connor) to set up a beauty contest, but Councillor Augusta Prodworthy (Whitfield) is strongly against it, stating that it would only excuse the men of the audience to objectify women in society.
In her absence, the decision is made, with the help of publicist Peter Potter (Bresslaw) and Sid's girlfriend Connie (Sims), using her hotel as a base. This later ropes hotel residents Admiral (Butterworth) and two attractive women called Hope Springs (Windsor) and Dawn Brakes (Margaret Nolan) into becoming interested, leaving Augusta and a group of outraged local women to try and sabotage the event.
---
Example of Tropes are:
Girl-on-Girl Is Hot: Subverted during the catfight between Hope and Dawn. None of the men in the room are aroused or excited about it (even Admiral is speechless in terror), and Sidney tries desperately to break them up. Ultimately played straight in that Hope's goal was publicity.
Hero Stole My Bike:

Sid escapes the seaside resort on a go-kart that he found laying around the area.

Internal Homage: There are rather a lot of allusions to Carry On Camping in this film.

Bernard Bresslaw portrays Peter Potter, the name of the henpecked husband portrayed by Terry Scott.
Barbara Windsor has a catfight with the same actress (Margaret Nolan) that she had a catfight with when they were portraying the schoolgirls in Dr Soaper's boarding school.

Logo Joke: There is an in-house joke at The Rank Organisation when Connie crashes into a gong.
May–December Romance: Although initially Sidney Fiddler and Connie are implied to have a history of attraction, Fiddler finds much more of a kindred spirit with Hope Springs.

At the film's ending, she rescues him from the angry mob and they leave Fircombe together.

Miss Kitty: Connie owns the local hotel and is frequently the bartender.
Mundane Made Awesome:

After the feminists sabotage the beauty pageant, Sid informally resigns his position by escaping the town on a kids' go-kart.

No Guy Wants to Be Chased: The leering Admiral who stares hungrily at the models is frightened out of the elevator he shares with Hope, who was teasing him flirtatiously.
Obvious Stunt Double: The diminutive (4'10'') Barbara Windsor was filmed making her escape by riding a moped across the camera's view. This would have been more effective if it wasn't so obviously a burly stuntman in a headscarf and mini-skirt. In a series of films renowned for their cheapness and consequent tendency to print and use the first take, this was a low point.
Same Language Dub: Valerie Leon's voice for the film was dubbed by co-star June Whitfield.
Screw This, I'm Outta Here!:

The audience after the feminists' sabotage.

Sid, when the audience threatens his life for being "cheated" out of their money.

Connie gives out tickets to the beauty contest and then escapes with the money the audience paid her to invest it into repairing her hotel.

Slippery Skid: The feminists' trap makes the models slip on their introductory catwalk and crash into each other.
Straw Feminist: The feminists in the movie are a mild version and not as misandrist as typical characters of this trope. It should also be noted that the Mayor's wife is one too, even though these typical characters would be unlikely to get married.

Subtly averted with Hope Springs; rather than acting the stereotypical humorless prig like the other feminists, she revels in her sexuality and gives as good as she gets, using confidence and aggressive assertiveness to make men respect her rather than simply demanding it.

Trap Door: The Mayor falls through one when a feminist notices that he's standing on one in the theater.
Train-Station Goodbye: The beginning of the movie has Peter getting on a train to Fircombe, leaving his girlfriend Paula, who's worried that his research about a beauty contest will lead him astray. After reassuring her that he was going to be faithful, he trips over his bags and lands face-first in a passenger's cleavage.
Ungrateful Bastard:

Sidney Fiddler's opinion of Fircombe by the end of it, after having been driven off by an angry mob after Prodworthy's feminists ruin the beauty pangent. It's worth noting his last line in the film is to retort "Not bloody likely!" after seeing the cheery goodbye message on the exit road from Fircombe exhorting visitors to return.

Villain: Exit, Stage Left: For lack of a better trope, this describes Sidney Fiddler's fate after Mrs. Prodworthy and her feminists sabotage the beauty contest; with the attendees blaming him for it, Fiddler grabs a nearby go-kart and scoots off, stopping only to try and steal the money from the contest (Connie Philpots beat him to it) before zooming off again. Hope Springs catches up to him on her bike and the two drive off together, with his last words being to tell a "Leaving Fircombe: Do Come Back" sign a heartily disgusted "Not bloody likely!"
Villain Has a Point: Although it's arguable whether it's Sidney Fiddler or Mrs. Prodworthy who's supposed to be the villain of the film, either way, they have a point. Prodworthy isn't exactly wrong in pointing out that beauty contests can easily be degrading for the female participants, although her point is undercut by the fact all the women who partake are confident, calm and professional — Hope Springs in particular is very much not some meek little piece of fluff being exploited by the men. Fiddler, meanwhile, may have his own lecherous ulterior motives, but he's very right in that Fircombe needs to do something to bolster its flagging status as a tourist attraction, given its lackluster supply of amnesties and implicit tendency to awful, unattractive weather.
---