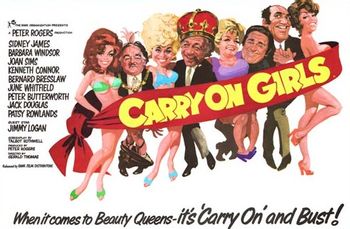 Carry On Girls is a 1973 Carry On film that starred series regulars Sid James, Barbara Windsor, Joan Sims, Kenneth Connor, June Whitfield, Bernard Bresslaw and Peter Butterworth. It was inspired through the news networks due to the raising issues of women's rights and sexism at the time, giving the production team enough material to create their own take of the subject.
The film is set in a sleepy seaside resort called Fircombe which is being pressured into taking drastic measures in order to make more money and gain tourism. Councillor Sidney Fiddler (James) suggests to the Mayor (Connor) to set up a beauty contest, but Councillor Augusta Prodworthy (Whitfield) is strongly against it, stating that it would only excuse the men of the audience to objectify women in society.
In her absence, the decision is made, with the help of publicist Peter Potter (Bresslaw) and Sid's girlfriend Connie (Sims), using her hotel as a base. This later ropes hotel residents Admiral (Butterworth) and two attractive women called Hope Springs and Dawn Brakes (one of them being Windsor) into becoming interested, leaving Augusta and a group of outraged local women to try and sabotage the event.
---
Example of Tropes are:
---