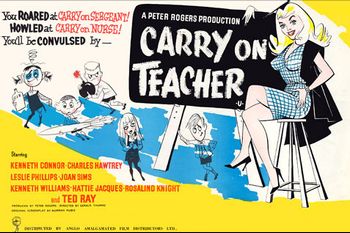 "Taking the P!"
—Sarah Allcock
Carry On Teacher is the third Carry On film and was released in 1959. It starred Ted Ray, along with Joan Sims, Kenneth Connor, Leslie Phillips, Rosalind Knight, Hattie Jacques, Kenneth Williams and Charles Hawtrey. This movie probably wouldn't have existed if its prequel Carry On Nurse hadn't done as well as Carry On, Sergeant. Once that film became popular, the creators were offered a five-film contract to continue the Carry On series and destroy the box-office. Luckily, this movie was popular enough in the summer of 1959 to carry on the series.
Teacher stars Ted Ray as a replacement head teacher named William Wakefield, who leaves his old school, despite the protests of his students, and applies for a job at Maudlin Street, a secondary modern school that has children running amok.
The tired teachers - who include English master Edwin Milton (Williams), music master Michael Bean (Hawtrey), PE mistress Sarah Allcock (Sims), science master Gregory Adams (Connor), and maths mistress Grace Short (Jacques) - are delighted that he's arrived but soon have to deal with Ofsted-like school inspectors Alistair Grigg (Phillips) and Felicity Wheeler (Knight) turning up, all while trying to deal with problems amongst themselves in the staff room.
Meanwhile, the students are conspiring to keep Wakefield, of whom they are particularly fond, from taking a job back at his old school by sabotaging the inspection at every opportunity.
---
Tropes Included:
Alliterative Name: William Wakefield.
As You Know: Wakefield says this during his first meeting with the other teachers.
Despair Event Horizon: Sarah Allcock breaks down and begins wailing in despair when the teachers discover the difficult way that, far from stopping their pranks, the students have merely lured them into a false sense of security before launching a salvo of mischief that results in Mr Adams getting the phone receiver glued to his hand (and boot polish all over his ear), Mr Milton getting hit by falling flour bags, Mr Bean falling through a hole in the staffroom floor, and Miss Short and Mr Grigg being electrocuted by the staffroom door.
Face Palm: Mr. Wakefield does this during the school play.
Fainting: Mr. Milton does this during the school play.
---