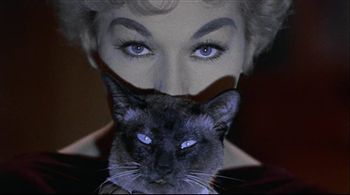 Bell, Book and Candle is a 1958 romantic comedy/fantasy film adapted from a 1950 play of the same name by John Van Druten, directed by Richard Quine and starring James Stewart, Kim Novak, Jack Lemmon, and Ernie Kovacs.
Shep Henderson (Stewart) is a book publisher in Manhattan who happens to live above a dealer in African art named Gillian Holroyd (Novak). Besides being an art dealer, Gillian is a witch from a family of witches that include her aunt Queenie (Elsa Lanchester) and her brother Nicky (Lemmon). Gillian takes an interest in bachelor Shep, and when she finds out that Shep's about to marry her old college enemy Merle Kittredge (Janice Rule), she casts a spell to make Shep fall in love with her instead. Complications arise when Nicky hooks up with Sidney Redlitch (Kovacs), an author of books about witchcraft, and threatens to expose Gillian's secret life.
Bell, Book and Candle was the follow-up to a very different Stewart-Novak pairing from earlier that same year, Vertigo. It is also notable as the last film in which Stewart played a romantic lead. The TV sitcom Bewitched, which premiered six years later, borrowed some elements from this film (it didn't hurt that this was a Columbia Pictures film and Bewitched was produced by Columbia's TV subsidiary Screen Gems).
---
Tropes:
---