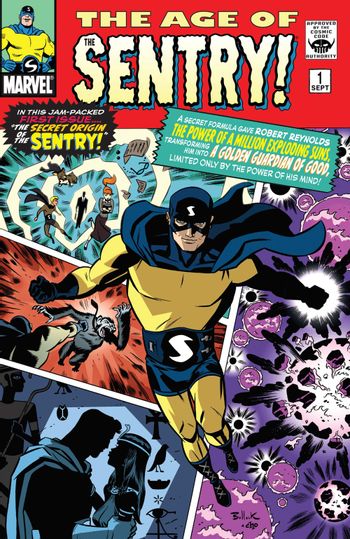 Once upon a time, there was a superhero called The Sentry, the Golden Guardian of Good, the man with the power of a million exploding suns, generally considered to be one of the world's greatest heroes, helping to usher in an age of superpowered adventurers.
Okay, not really. The Sentry was made up by Marvel comics claiming that he was an old character Stan Lee had created and just forgotten about one day, and had several miniseries depicting him being an Alternate Company Equivalent of Superman, until two of his enemies made the entire world forget about him. Much Deconstruction followed.
The Age of the Sentry (co-written by Jeff Parker and Paul Tobin and co-pencilled by Ramon Rosanas and Nick Dragotta) is a depiction of a version of the Sentry during his heroing days, getting into bizarre scrapes with giant bears, radioactive hillbillies, and disturbingly obsessive fans, as a parody of the Silver Age Superman and his usual antics.
---
Tropes:
---