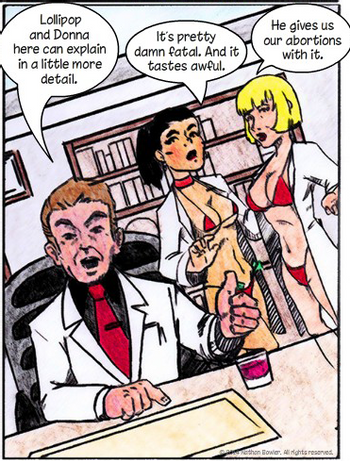 Hopelessly Heroic
was a Canadian parody superhero story featuring ridiculous adventures involving a likable idiot who gained superhuman powers. It was drawn by various guest artists, and written by Nathan Bowler (creator of
Superandom
) and Damien Fleury.
Characters
Many ridiculous superheroes, villains, and other characters drove the story, most notably Jon Cock a.k.a. Hero and his sidekick Tahoor Pradesh a.k.a. Sidekick, Captain Chest, Macy, Baby-Squisher, and Lewis E. Furr a.k.a. Villain.
The website was known to have a few hidden Easter eggs hidden throughout. As well, the humorous slogan above the footer is always random with each new page reload or page refresh.
There is also a Facebook page: Facebook Page
And Twitter page: Twitter Page
though they have stopped updating
Unfortunately the creator had to take the comic down in July 2017 due to the unsustainable costs of hosting the site.
Compare DC Comics and South Park.
---
Hopelessly Heroic contained examples of:
---