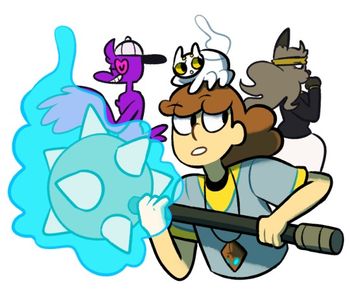 Heroes of Thantopolis is a fantasy webcomic created by Strontium.
It follows the tale of a young boy named Cyrus who finds himself in the City of the Dead, which is odd due to the fact that Cyrus is 100% living.
Soon after his arrival, he meets Helene, Queen/Goddess of Ghosts and Ruler of the city. Helene thinks Cyrus coming to her is a good opportunity to take care of her rival factions outside and inside her city, and begins training him as her Champion.
Cyrus makes many friends in the city, including Trickster, the hipster ghost, and Xisea, the ghost spider.
The general style is quite colorful and cute despite it being set in the Afterlife.The comic has been made for all ages. It can be read on its own site
. Updates semi-weekly.
---
Tropes present in this work include:
---