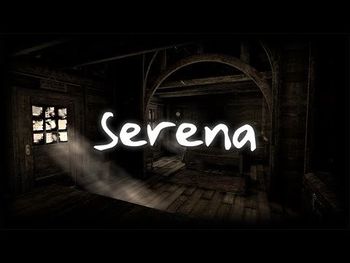 "We all have our skeletons in the closet...but not Serena. She was perfect."
Intended as a "love letter" to the Kickstarter community, Serena is a free, very short yet detailed Environmental Narrative Game, released for PC through Steam on January 30th, 2014. Nightmare Fuel through and through, it tells the story of a man who recently lost his wife, the titular Serena, but is all what it seems in this psychological horror?
Has a lot of support from the old-school adventure gaming community and fans, including former Sierra staffer Josh Mandel, who voiced the protagonist, and Pushing Up Roses, who voiced Serena. Also includes the likeness of adventure enthusiast Serena Nelson, to whom the game is dedicated.
Obviously, it has nothing to do with the 2014 drama film of the same name.
The nature and extremely short length of this game being what it is, it's hard to discuss anything without spoilers, so they're unmarked. Be VERY careful when reading!
Serena contains examples of:
---