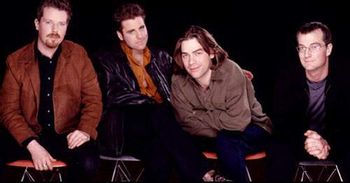 Great Big Sea is a band from Newfoundland, on the East Coast of Canada, probably the most well-known band to come from there — certainly the most well-known outside Newfoundland for being from Newfoundland.
Their music is often energetic pop-rock (mixed with slower folk ballads) infused with a Newfoundland sound, which can be mistaken for an Irish one at a distance. This results in a Celtic sound that has proved popular with listeners from around the country. About half of their repertoire is simply their interpretations of traditional Newfoundland sea shanties, drinking songs, folk songs, etc. Well, the sea shanties and folk songs are mostly about drinking too.
Their concerts are known for their infectious atmosphere and a healthy amount of audience participation.
One of the lead singers, Singer Sean McCann, left the band in early 2014, but is still releasing solo albums, with "Help Yourself" debuting in January 2014.
---
Discography:
Great Big Sea, 1993
Up, 1995
Play, 1997
Turn, 1999
Road Rage (Live), 2000
Sea of No Cares, 2002
Something Beautiful, 2004
Great Big CD and DVD (Live), 2004
The Hard and the Easy, 2005
Courage Patience and Grit (Live), 2006
Fortune's Favor, 2008
Safe Upon the Shore, 2010
XX, 2013
---
Tropes involving Great Big Sea include:
---