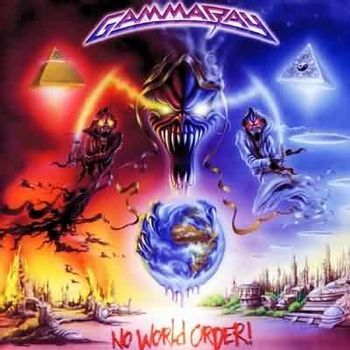 By moonlight there's way... FOR REBELLION!
Here, the world has gone astray... REVOLUTION!
Now, the time has come to pray... HALLELUJAH!
Deep, inside our minds we wait... FOR REBELLION!
Here in dreamland we will not obey the masters...
— Rebellion in Dreamland
Gamma Ray is a power metal band from north Germany, founded by former Helloween guitarist, singer, and songwriter Kai Hansen.
In 1988, after four years with his former band, guitarist and songwriter Kai Hansen decided, for reasons that are still the subject of much debate, to leave the band. Hansen claimed that Helloween had become too big for him to handle, although the group's troubles with financial issues and the record company most likely played a part as well. He proceeded to do some studio work with Blind Guardian. Eventually, Hansen decided to form his own project with long-time friend Ralf Scheepers from Tyran Pace. This two-man project grew into a four-man band with the addition of Uwe Wessel (bass) and Mathias Burchard (drums). Thus was Gamma Ray born, bearing a sound understandably close to that of Hansen's former band, Helloween.
One of notable features is that their style is very non-uniform , thus sometimes, e.g. Insanity and Genius but not Power Plant will be to one's taste, or vice versa. This was especially noticeable in the first five albums, which had at least one member different from preceding album, but the style still changes with each album.
Speaking of members, one fun thing to note is that, while there has been a relatively little change in the line-up over the years, there has been several member-changes within the band. After Ralf Scheepers left Kai Hansen took over the vocals (while continuing on guitar) for the next 20 years, and Dirk Schlächter started with guitar but changed to bass in 1997.
Band Members:
Kai Hansen - Guitar (1989-), Vocals (1994-2015)
Henjo Richter - Guitar, Keyboards (1997-)
Frank Beck - Vocals (2015-)
Dirk Schlächter - Guitar (1990-1997), Bass (1997-)
Michael Ehre - Drums (2012-)
Studio Albums:
1990 - Heading for Tomorrow
1991 - Sigh No More
1993 - Insanity and Genius
1995 - Land of the Free
1997 - Somewhere Out in Space
1999 - Power Plant
2001 - No World Order
2005 - Majestic
2007 - Land of the Free II
2010 - To The Metal
2014 - The Empire of the Undead
Gamma Ray songs include:
---
Examples
open/close all folders
Song tropes
Misc tropes (videos and other stuff)
---
"Heeeeere in Dreamland we will not obey... THE MASTERS!"
---