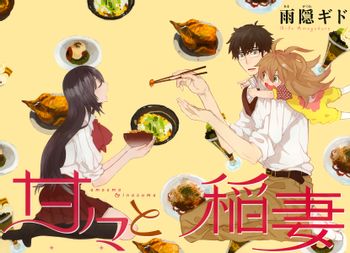 Kouhei Inuzuka, a recently widowed math teacher, is struggling to keep his house in order and take care of his daughter, Tsumugi, alone. His cooking skills are atrocious, forcing him and his daughter to eat convenience store bento boxes for dinner.
While viewing the cherry blossoms one spring, they come across a crying girl eating her delicious picnic alone. Introducing herself as Kotori Iida, she invites the two of them to drop by her mother's restaurant (Megumi). One night, Kouhei decided to take Tsumugi out for dinner when they discovered that the restaurant has been (temporarily) closed for some time... and that Kotori can't cook at all. After dinner, Kotori tells Kouhei that she's his student at school and she asks him if they would be able to drop by for dinner more often.
Sweetness & Lightning (Amaama to Inazuma) is a food Slice of Life manga by Gido Amagakure, which was serialized in good! Afternoon by Kodansha from March 2013 to August 2018 with a total of 12 volumes. It was adapted into an anime by TMS Entertainment in the 2016 Summer season, and can be legally viewed with subtitles on Crunchyroll
. The manga is currently available on Crunchyroll as well in digital, and it's being printed by Kodansha USA.
---
This series provides examples of:
---