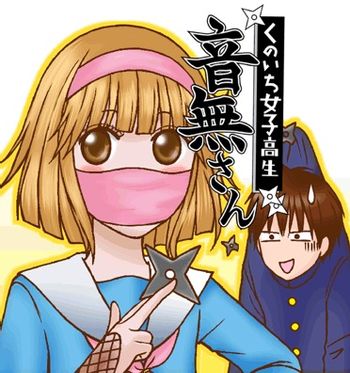 High School Ninja Girl, Otonashi-san (also known as Kunoichi Joshikousei Otonashi-san) is a Slice of Life Yonkoma manga by Masami Watabe that is about Exactly What It Says on the Tin. Fuka Otonashi has just transferred to a new school, and she is also a ninja.
The various chapters show us how a ninja like Otonashi handles day-to-day life. Like any girl, she deals with her crush on otherwise ordinary boy Arima, suffers Weight Woes when she puts on extra pounds over the holidays, works a part-time job, confronts her Childhood Friend-slash-rival ninja, takes on an American fan of ninjas as her apprentice, and much more.
Other characters include Makoto Arima, the boy Otonashi-san has a crush on; Otonashi's older brother and resident Butt-Monkey Yoichi; Kei Shimura, a childhood friend and ninja rival of Otonashi's who crossdresses because the only thing he can beat Otonashi at is femininity, and Hitomi, Otonashi's best friend (thanks to the great lunches she can make).
The manga ran from 2013 to 2015, for a total of 65 chapters. The manga is officially available in English via MangaBox
.
---
High School Ninja Girl, Otonashi-san contains examples of the following tropes: