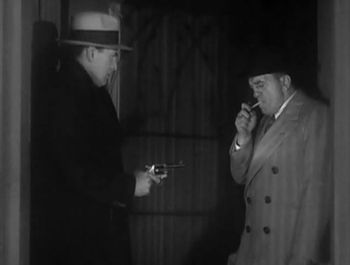 The Racket is a 1928 silent film directed by Lewis Milestone, starring Thomas Meighan and Louis Wolheim, and produced by Howard Hughes.
Wolheim is Nick Scarci, the bootlegging king of an unnamed city that looks a lot like Chicago. Meighan is Captain McQuigg, the cop that's determined to take down Scarci's crime organization. Unfortunately for McQuigg, the city is deeply corrupt and Scarci is best buddies with the mayor. Whenever McQuigg busts Scarci for something, Scarci's friends in City Hall get him sprung and nothing ever comes of it. One day, McQuigg gets a vital break when Scarci's younger brother Joe gets arrested for a hit-and-run accident. McQuigg then decides to seize on this chance to destroy Scarci's organization.
The Racket is one of the Trope Makers for the gangster film genre, predating later, better remembered gangster films like The Public Enemy and Little Caesar. It was believed lost for decades, until one copy was found in Hughes's vaults after his death. It was nominated for Outstanding Production—the award later retroactively determined to be Best Picture—at the first Oscar ceremony, losing to Wings. Wolheim and Milestone later teamed up again for the all-time classic All Quiet on the Western Front. Howard Hughes produced a remake of The Racket in 1951 with Robert Mitchum and Robert Ryan as, respectively, the cop and the gangster.
---
Tropes: