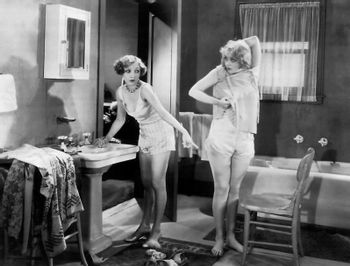 The Broadway Melody is a 1929 film directed by Harry Beaumont, starring Bessie Love and Anita Page. Love and Page are the exotically named Hank and Queenie Mahoney, who have taken their singing-and-dancing sister act from the West Coast to Broadway in hopes of making it big. They have a pretty good advantage in that Hank's boyfriend, Eddie Kearns, is a well-known Broadway performer. Eddie gets the Mahoney Sisters a place in Broadway producer Francis Zanfield's new show, but Hank gets cut from the show while taller, sexier Queenie attracts a lot of male attention and gets a bigger part. One of the men courting Queenie is playboy Jock Warriner, whose intentions are less than honorable. A bigger problem is another one of Queenie's suitors—Eddie, whose attentions shift from Hank to her sister.
The Broadway Melody comes off as dated and melodramatic to a latter-day viewer, but it at least has musical numbers, which puts it ahead of a lot of the other dull, creaky, filmed stage plays that typified the early talkie era. It won the Academy Award for Best Picture at the second Oscar ceremony, becoming the first talkie to win, the first musical to win, and the first Metro-Goldwyn-Mayer production to win. It started a series of similar musicals: Broadway Melody of 1936, Broadway Melody of 1938, and Broadway Melody of 1940.
Remade in 1940 as Two Girls on Broadway.
---
Tropes in The Broadway Melody include:
---