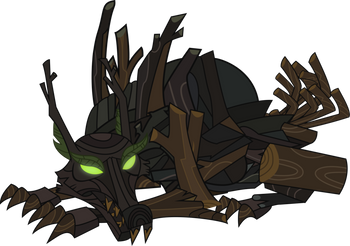 "I think, therefore I am."
Lupine Tree
is a My Little Pony: Friendship Is Magic Fan Fiction by wille179. It is the story of Lumber Jack, a timberwolf who gains the intelligence of a human to become something more.
It shares continuity with Split Second, while the human's soul comes from the dying universe of Black Queen, Red King, as the author writes all his stories in a Shared Multiverse.
Has since been unofficially canceled as wille179 has left the fandom.
---
This story provides examples of:
Plant Person: Lumber Jack, after his awakening. Physically, aside from higer intelligence and larger size compared to others members of his species, he is indistinguishablenote from them. He just refers to himself as a person instead of an animal.
Primal Fear: Fire. Jack, being a tree, is terrified of fire. As Applejack puts it, "Trees can't run away." It's hinted that all trees are scared of fire... for obvious enough reasons.
Punny Name: Lumber Jack chose his own name for the sake of the pun.
Pun-Based Title: Lupine Tree is a pun on "Pine Tree," "Lupine" (a flowering plant whose blooms grow in long strands), and "Lupine" (relating to wolves).
Rage-Breaking Point: When Jack has to apologize to Twilight and Spike, he's already upset. When he sees the horrible state her library is in (it's a hollowed out but still 'living' tree), he stomps out. But when Twilight tries to confront him about it, he loses his temper.
Shared Universe: A shared multiverse, to be specific. Lupine Tree is more closely related to Split Second than Black Queen, Red King, however.
Uplifted Animal: Unintentionally triggered by Discord, Lumber Jack's new intelligence is the driving plot point of the story
Voluntary Shapeshifting: Cheif Hiram. When he wished to talk to Muzen and Jack, he created a minotaur-like body out of his slime.note
When Trees Attack: Jack turns downright murderous if an intelligent creature enters his grove. He managed to control himself and not hurt Rarity, but Tirek was not so lucky.
---