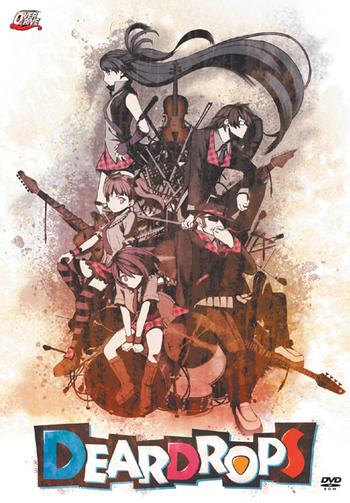 H-Game Visual Novel that was made by Overdrive in 2010 and localized by MangaGamer in 2012.
Suganuma Shouichi was one of the nobles of the violinist world and loved by classical music fans everywhere. Even though he devoted his whole life to the violin, even going so far as to travel to Germany for his studies, unforeseen circumstances force him to move back to Japan forever disgraced. At the beginning of this story, he lives and works at Live House 696 at the request of the owners, his Childhood Friend Sakurai Kanae and her family. Through his interactions with his co-workers and the people who play there, he is exposed to the rock culture of the live house.
One day, he meets the wandering bassist Gonda Eiji. They don't get along, but when Gonda is forced to form a band, he joins as a guitarist along with the ex-drummist, Sadao, Kanae's father. In order to learn this new instrument, he obtains the help of the mostly normal (but fanatical when it comes to the guitar) Ooba Yayoi to be his teacher. Even after intensive training, when the concert starts, he is unable to play to his full ability because of Eiji's overpowering bass. One of the customers he has met beforehand, Kaguya Riho, takes charge of the microphone and sings, easing Shouichi's tension. Even though he recovers in the concert, afterwards, he's so depressed about his abysmal performance and his inability to quit music that he tries to break his hands. Fortunately, Eiji interferes and says that Shouichi was meant to play rock because of his depressing situation and should try playing in a rock band.
Following his advice, Shouichi creates a band with both Eiji and Yayoi and his trusty new guitar Fraulein. The Cloudcuckoolander drummer Rimu joins after the eventful marriage between her mother and stepfather, and a Battle of the Bands with Riho's former band convinces her to join Shouichi's band. Later, they discover that they all have won the same mysterious prize from the same old vending machine in the live house, a guitar pick with the word "Deardrops" written on it. They choose that as the name of their band and go on to conquer the indie rock world!
See also Kira-Kira, the Spiritual Predecessor.
---
Deardrops contains the examples of the following tropes: