"3... 2... 1... DRAW!"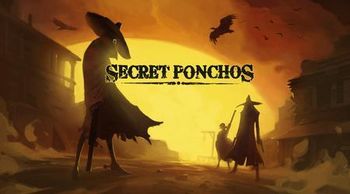 Secret Ponchos is an online Spaghetti Western top-down shooter developed by Switchblade Monkeys. The game takes place in Lonetree; A lawless town crawling with bandits, murderers and bounty hunters. You begin your journey as a wanted petty criminal and begin building your reputation and bounty with every battle you partake in. Players who perform well receive a bounty on their heads, receiving reputation points that allow players to increase their stats. Every character has a dual-function weapon (e.g., a revolver that fires strong shots up close and rapid shots at a distance) and a secondary weapon.
The game was released in July 2014 in Steam Early Access for Microsoft Windows and on December 2, 2014 for PlayStation 4. In October 13 the game has been officially released on PC, with more maps and characters than the PS4 release. It is planned that those maps and characters will come to PS4.
No relation to Puzzle Platformer named Poncho.
The game provides examples of:
---