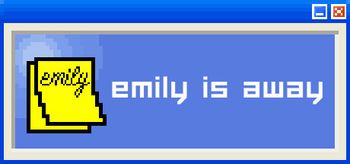 Emily is Away is a short Interactive Fiction game created by Kyle Seeley. It is freely available on Steam
and Itch.io
.
The game takes place in a five year span, from 2002 to 2006. All interaction is handled through an instant messaging client similar to America Online's IM client. You have a few friends on your friends list, but you only directly interact with your friend Emily (screen name: emerly35), chatting about each others' lives and relationships.
In October 2016, Seeley announced
Emily Is Away Too, a Spiritual Successor to the original game. It was released 26 May 2017.
A third game in the series, Emily Is Away <3, was announced in March 2019.
Compare and contrast Digital: A Love Story.
---
emerly35 is typing...
---