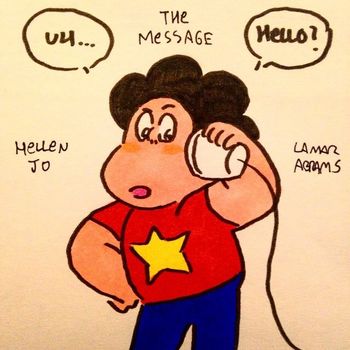 Steven and his dad are messing around musically on the beach. Greg asks Steven to plug in one of the electric guitars so they can jam. Steven can't get the guitar to jam because, as Greg points out, Steven plugged into the video port rather than the audio. Then they play around with his voice vocoder. Greg explains that the events involving the ocean getting sucked into space have inspired him; he shows Steven his ideas for a cover for the "Water Witch" single he's thinking about. He's drawn an image of Lapis Lazuli, the author of those events, as a vicious villainess. He begins to sing a song portraying her the same way. Steven, who sees her in a different light, sings a counterpoint, indicating all she wanted to do was go home.
As they continue to fool around with music, a new sound interrupts them. At first they think it's Greg's equipment, but it turns out to be coming from the Temple. Greg tells Steven to go on without him, because he wouldn't want to mess anything up.
When Steven arrives, the Gems are at their wits' end, due to a horrible, loud wailing. It turns out to be coming from the Wailing Stone that they brought home some time ago — and nothing they try will shut it up. Garnet uses a gauntlet to hit its off button, but it just turns back on. Pearl bubbles it, but the bubble just pops. Steven sticks his arm in it, but the sound just forces its way out through his mouth. Garnet finally stuffs a pillow in the hole to muffle it. The behavior of the stone confuses them, as they have all the Wailing Stones on Earth. Though it's reasoned that the signal must be coming from space, this doesn't explain why it's just making loud noise instead of transmitting a voice like it's supposed to. Pearl muses that the incoming signal might be too advanced for the stone and it can't decode it, which gives Steven an idea: Greg.
Steven: He's the audio daddy-o!
The Gems are a little skeptical (or a lot skeptical in Pearl's case), but they're out of ideas, so they let him try. Pearl is dubious and has a low opinion of the primitive Earth technology they can bring to bear. They hook the Stone up to Greg's van-studio setup, and after a few tries they can kind of hear a voice. Greg tries again to clarify the signal, but when he draws too much power, he kills his battery. The Gems go back to the Temple with the stone, and Greg watches them leave. He expresses his feelings once again in song: in which he sings about how much he respects and looks up to the Gems, and how much it hurts him that they don't even have the smallest tiny bit of faith in him. Steven considers the problem before them a little longer and the answer comes to him. He's so excited that he can't even bring himself to speak, so he gestures at his father.
Greg: Magic... eyeballs?
But eventually Steven makes known what he means. Perhaps the message is not just audio, but also video. Excited, Greg and Steven run back to the house. Greg bursts in, asking the Gems to have a little faith in him, but he isn't even facing them due to where they were sitting. Greg goes on to say that he has never known the Gems to give up on anything — except him. But if the signal is really video, they might be able to see it if they try again.
Garnet and Pearl re-charge the battery. Amethyst starts the van. Greg hooks the stone back up, fiddles with the settings, and the noise and garbled signal on the screen resolves — into Lapis Lazuli!
She isn't even sure her message is getting through, but she wants Steven to know there's a Gem on the Homeworld who knows his name.
Lapis Lazuli: I don't know how she knows! I didn't tell her! I swear!
Lapis goes on to say that the Gem who knows Steven's name is on her way to Earth, and she's not alone. She elaborates that Homeworld has changed so much since she was last there that she barely recognizes it. She says there's no way that anything on Earth could stand against it, and advises them to not put up a fight to avoid devastation.
The Gems, stunned, realize that the Gem in Lapis' message must be Peridot, and now they have proof that she's on the way to earth, and not by herself.
Garnet is determined to remain calm. She indicates that they have received the message. She gently takes Greg's hand in both of her own and thanks him sincerely for his assistance. Greg is momentarily overcome with emotion that the Gems have acknowledged his help and thanked him.
Steven acknowledges that Lapis seems sad, but not to grasp the gravity of the situation the message has put them in; he picks up the vocoder again, and he and Greg go back to playing around with it.
The Gems, on the other hand, are clearly disturbed by the message and exchange worried glances.
---
Tropes:
---