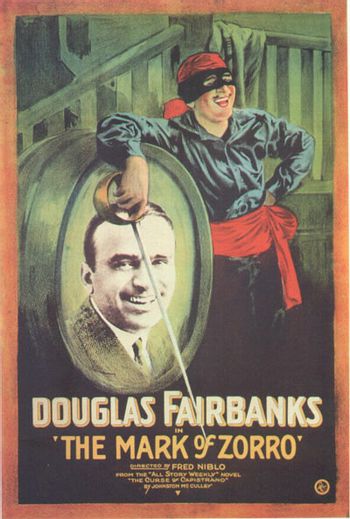 The Mark of Zorro is a 1920 film starring Douglas Fairbanks. Fairbanks is Don Diego Vega, a lazy, effete nobleman in the days of Spanish California. Lolita Pulido, his fiancee in an arranged marriage, finds him dull and uninspiring. What she doesn't know is that he is actually Zorro, a masked avenger who is fighting the oppressive Governor Alvarado and his villainous henchmen Capt. Ramon and Sgt. Gonzales. Zorro crusades for justice and rallies the people of California against their oppressive overlords.
This film was basically the Trope Maker for the whole Zorro franchise. It was based on the first Zorro story, "The Curse of Capistrano", published just the year before, but that story featured a Zorro who wore a sombrero and threatened people with a gun. This film invented the masked swordsman that became popular. It also marked a change in direction for Fairbanks, who had spent his career to date making light comedies but would spend the rest of The Roaring '20s making elaborate action films.
It was remade in 1940 with Tyrone Power and in 1974 with Frank Langella. Not to be confused with the 1998 film The Mask of Zorro, though of course they are based on the same character.
In 2015, The Mark of Zorro was selected by the Library of Congress National for preservation in the National Film Registry, finding it "culturally, historically, or aesthetically significant." (The 1940 version got that same honor in 2009.)
---
The Mark of Zorro provides examples of:
---