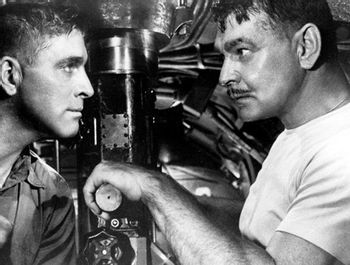 Run Silent, Run Deep is a 1958 film directed by Robert Wise, starring Clark Gable and Burt Lancaster.
Commander P.J. Richardson (Gable) had his submarine sunk in the Bungo Straits
by the Japanese destroyer Akikaze in 1942. Richardson, who survived the sinking but was reassigned to desk duty, is obsessed with the sinking of his ship, continually running war games to try and figure out what went wrong. Eventually he wrangles a posting as captain of the submarine USS Nerka. The Nerka's executive officer, Lt. Bledsoe (Lancaster) is none too happy about missing out on the chance to be CO of the Nerka himself. Tensions between Richardson and Bledsoe increase even further when Richardson tells his men that he's taking the Nerka back to the Bungo Straits, in search of the Akikaze, in direct defiance of Navy orders telling him to stay out of that area.
If not the Trope Maker for Hot Sub-on-Sub Action and other submarine warfare tropes in film, definitely a Trope Codifier. Loosely based on a novel by Real Life submarine commander Edward Beach. Other than the Dawson Casting of Gable and Lancaster—both decades too old to play sub officers—considered one of the more realistic depictions of submarine warfare, with effects that were cutting-edge for 1958.
Insult comic Don Rickles has a non-comic part as one of the crew.
---
Tropes: