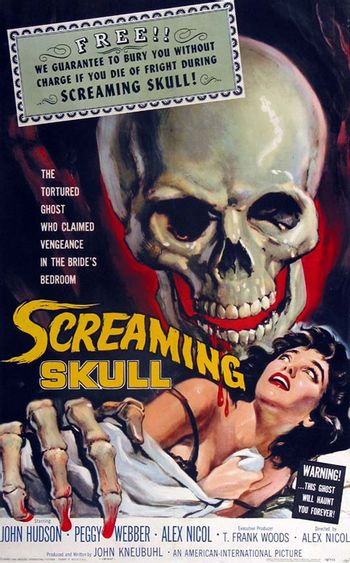 Narrator: The Screaming Skull is a motion picture that reaches its climax in shocking horror. Its impact is so terrifying that it may have an unforeseen effect...it may kill you.
[The camera pans over a coffin with a "Reserved For You" sign inside]
Narrator: Therefore, its producers feel they must assure free burial services to anyone who dies of fright while seeing The Screaming Skull.
Meet a lovely couple of newlyweds, Eric and Jenni. Eric is a widower who inherited his late wife Marian's palatial country home after she died in an unfortunate and mysterious accident. Jenni is a wealthy young nervous wreck fresh out of an asylum. Oh, and there's also Mickey the gardener, he of unkempt hair and a child's mentality, who claims that Marian "cries in the night" and dislikes Jenni as an unwanted replacement. Now they're all going to spend a few days in a huge, empty mansion echoing with the ghosts of the past, with nothing to hide their emotional baggage. What Could Possibly Go Wrong?
Screaming Skulls, that's what. Jenni starts to hear unexplained screeches at night, and stumbles upon skulls that disappear by the time she brings someone else to see them. Is the ghost of Marian hanging around to drive Jenni away? Is this all Mickey's doing, who underneath his moronic exterior hides the shrewd mind of a psychological torturer? Is Jenni suffering another mental breakdown? Or is Eric a murderer — dispatching Marian for the mansion and attempting to do it again to Jenni so he can inherit her fortune?
Actually, though it's transparently obvious that Eric is the Big Bad, he's not the only one playing with skulls. His attempts to drive Jenni to suicide (or at least create a condition in which her ending up hanging from the ceiling won't be questioned too much) go well until Mickey swipes the skull Eric's been leaving for Jenni to find and exposes him for the murderer that he is. At the film's climax, when Eric goes looking for his missing skull, Marian's ghost really does show up, and a veritable pack of semi-translucent skulls hound Eric across the estate before one attaches itself to his neck and brings him down in a pond, drowning him.
This 1958 American horror film was directed by Alex Nicol, a character actor who was tired of being typecast as villains in Westerns and film noirs and thought a horror movie offered an opportunity to expand his range. Besides directing, Nicol also plays a supporting role as Mickey the gardener. The movie was made on a shoestring budget, mostly filmed over two weeks at the Huntington Hartford Estate in Santa Monica, with a small ensemble of character actors (Peggy Webber, John Hudson, Russ Conway and Tony Johnson) who agreed to appear in the movie for a reduced salary of $1,000. Nichol promised his costars a percentage of the film's profits, but the production company refused to pay the bonus.
Screaming Skull was originally released by American International Pictures in a double-feature package with Terror from the Year 5000. The movie gained some notoriety for its William Castle-inspired gimmick of promising a free coffin to anyone who "died of fright" while watching it (unsurprisingly, no one tried to collect). Screaming Skull received decent critical reviews and performed fairly well in theaters for a low budget picture, but earned its creators very little money; one of AIP's producers failed to file a copyright claim and thus the movie fell into Public Domain almost immediately after its release.
For the Mystery Science Theater 3000 episode, please visit the Recap page.
---
Tropes used in The Screaming Skull:
---