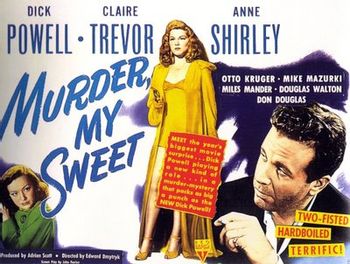 Murder, My Sweet is a 1944 Edward Dmytryk-directed Film Noir. It was adapted from the 1940 Philip Marlowe novel, Farewell, My Lovely.
Moose Malloy has just gotten out of jail, and hires detective Philip Marlowe (Dick Powell) to track the love interest he lost touch with while serving time. Marlowe is also hired by a beautiful woman named Helen Grayle (Claire Trevor) to find a stolen jade necklace. It becomes more obvious that their stories are connected as the film continues.
The film was also a successful case of Playing Against Type for Powell, who had been known for musical comedies until this film (the film was even renamed to avoid confusion with being a musical). It allowed him to get more dramatic roles after this. He reprised the role a decade later in a television adaptation of The Long Goodbye. 31 years after this film, Chandler's novel was adapted again, as Farewell, My Lovely with Robert Mitchum.
---
Tropes used by the film:
---