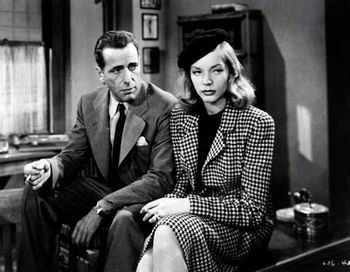 Vivian: You go too far, Marlowe.
Marlowe: Those are harsh words to throw at a man, especially when he's walking out of your bedroom.
The Big Sleep is a 1946 Film Noir by Howard Hawks, based on the 1939 novel of the same name by Raymond Chandler. Both the original novel and the movie are considered classics, and the latter is a quintessential example of the Film Noir genre.
The convoluted plot follows the investigation by Hardboiled Detective Philip Marlowe (Humphrey Bogart) into the gambling debts of young dilettante Carmen Sternwood at the behest of her father, an old, wheelchair-bound millionaire. However, Carmen's older sister, Vivian Rutledge (Lauren Bacall), claims that the investigation is really about finding what happened to her friend Sean Regan, who has mysteriously disappeared.
As film critic Roger Ebert writes, "It is typical of this most puzzling of films that no one agrees even on why it is so puzzling. Yet that has never affected The Big Sleep's enduring popularity, because the movie is about the process of a criminal investigation, not its results."
---
The film contains examples of:
---