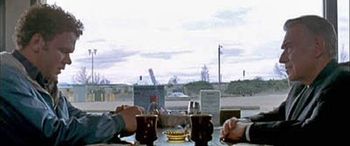 Hard Eight is a 1996 crime thriller written and directed by Paul Thomas Anderson. It was his first feature film. It stars Philip Baker Hall, John C. Reilly, Gwyneth Paltrow and Samuel L. Jackson.
Sydney (Hall) is a Professional Gambler who finds John (Reilly) outside a diner one day, broke and alone. Sydney offers to help John find a way to make some money; John at first resists, thinking Sydney is a Dirty Old Man, but eventually agrees to be helped. Two years later, Sydney has become a Parental Substitute for John, and the two are inseparable. John ends up falling in love with, and marrying, Clementine (Paltrow), a cocktail waitress/prostitute. However, they get into a bad situation that Sydney has to help them out of. To make matters, worse, John's friend Jimmy (Jackson) knows about Sydney's past, and knows just why Sydney has taken John under his wing.
Philip Seymour Hoffman, who would become Anderson's most frequent collaborator before his death, appears in one scene as an obnoxious gambler.
---
Tropes used in this film:
---