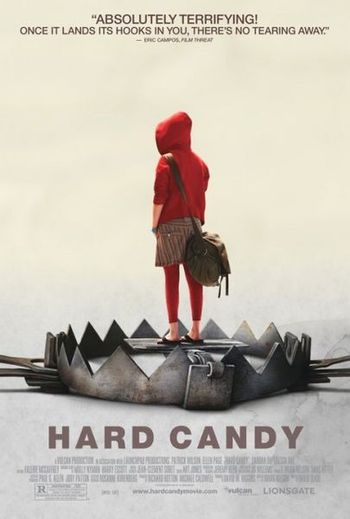 "Strangers shouldn't talk to little girls."
A 2005 Psychological Thriller/Exploitation Film written by Brian Nelson and directed by David Slade, starring Patrick Wilson as a 32-year old photographer named Jeff Kohlver and Elliot Page note pre-transition as the precocious 14-year-old Hayley Stark.
They meet at a cafe after chatting online, and agree to go to Jeff's secluded house to have a little fun, where Hayley mixes the drinks and strips for a photo session. It seems that Jeff has the advantage until he passes out, and when he comes to, he is tied to a chair and being investigated by the not-so-innocent teenage girl. What follows is a series of arguments, cat-and-mouse games and psychological torture sessions.
Not to be confused with the Counting Crows album, the title track of that album, or even the other album of the same name by Madonna. Or actual hard candy.
---
This film provides examples of:
---