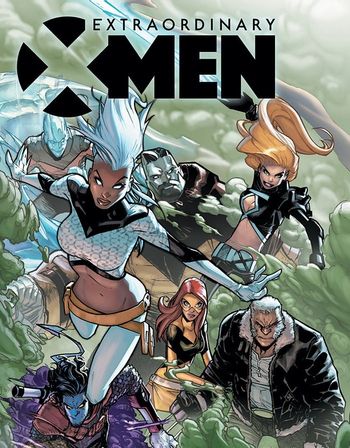 Mutantkind needs the X-Men more than ever. Itís going to take something extraordinary to save them.
Extraordinary X-Men is a comic book series born out of Marvel Comics' All-New, All-Different Marvel 2015 brand-relaunching. The series is written by Jeff Lemire (of Animal Man fame) and penciled by Humberto Ramos. The series replaces Uncanny X-Men as the "main" title during All-New All-Different Marvel, and depicts the new status quo for the X-Men.
After Secret Wars ends, the entire Marvel Universe does a Time Skip to eight months later. During that time period, something happens between the X-Men and The Inhumans (later revealed in Death of X) which leads to mutantkind being more endangered than before; namely the terrigen cloud drifting across Earth waking up latent Inhumans' powers having a terrible effect on mutants. Some of the X-Men have left the team and leader Cyclops is nowhere to be found. During this trying time, Storm assembles a team consisting of Colossus, Nightcrawler, Iceman, Jean Grey (the teenage Jean Grey displaced from the past), Magik, and Old Man Logan who's been displaced from his universe.
Also see Uncanny X-Men, the previous "main" title going under a Darker and Edgier direction for volume 4. See also All-New X-Men, the series teenage Jean Grey is from, and Old Man Logan (2016), where Logan's solo adventures continue.
The series ended in April 2017 and was replaced by two flagship team books: X-Men: Gold and X-Men: Blue.
---
Tropes Include:
---