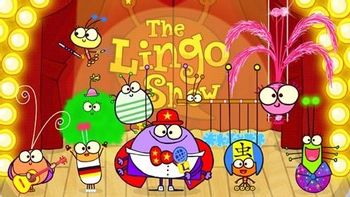 The Lingo Show is a British Edutainment Show designed to teach young children various foreign languages. It airs on the BBC's preschool channel, CBeebies. The show revolves around Lingo, a half-ladybug and half-butterfly (according to Word of God) insect and his team of foreign bugs, as they travel around the UK to perform "Big Bug Shows" for children. The humans are live-action, but the bugs are all animated.
It was created by Nicole Seymour and the characters were designed by Kate Sullivan. It premiered on CBeebies on March 12, 2012.
Not to be confused with Lingo, a game show on GSN with no relation to this show whatsoever.
---
The Lingo Show contains examples of the following tropes:
---