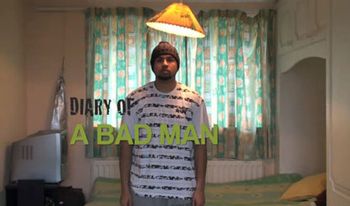 Diary of a Bad Man is a (2010–2013) British web video series created by YouTube comedian Humza Arshad. It tells the fictional story of Humza's life as a British Muslim with his friends and family that usually interlude with a musical number or a vlog chat in which Humza talks about annoying traits in Asian society.
The series has sparked controversy, varying from the claims of negative "stereotyping" in the British Muslim community to the British youth's urban slang and the gratuitous Punjabi and Urdu. However, many critics claim that it's a satirical look on the youth in Britain and the Asian community and should be seen as a positive outlook.
You be the judge and see it for yourself here
.
---
Lemme get straight to the tropes, yeah!