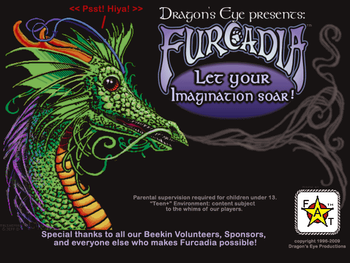 Furcadia
is a player-based MMO centered around Funny Animals created by Dragon's Eye Productions in 1996. While it's free to play, certain features such as larger map sizes or using a mythical animal species such as a Kirin or Phoenix cost money.
The game itself is mostly like a gigantic chat room with Funny Animal avatars (called furres in game) scattered around on the screen. A big focus is "Patching", the creation of custom art. Players can control the look of their area's interface, avatars, objects, and environment. Players may chat, interact with their environment, explore official or user-created maps (called dreams), play games created by other users, or roleplay at will.
It should be noted that players have full control of roleplay or social interaction within their own areas. No enforcement to remain in-character or stick to any continuity or power-level is enforced except at the map-owner's discretion.
The game canon was written by Talzhemir and the associated RPG "FURRE!" utilizes the Pocket Universe dice systems by UNIgames. In addition to material posted to the Furcadia web site, the canon also includes fiction written and posted at Talzhemir's various web sites. (See below for a list.)
In this world there are three continents: the Renaissance-plus-Steampunk Olde World, the medieval-fantasy-style Kasuria, and prehistoric/Bronze Age Drakoria.
Kasuria is ruled by a king or queen. Prejudice due to species is very rare, but the current ruler belongs to a political faction that has revived a taboo against herbivore/carnivore intermarriage. Non-addictive substances such as alcohol are common but addictive drug use/production/sales is brutally persecuted. In some ways, Kasuria is a utopian land. Limbs can be regrown; debilitating diseases can be cured. Mind-magery, a sort of magical equivalent of psychiatry exists. This is the only continent where magic exists.
In Drakoria, the dragon-like Wyrmmes have an empire made up of city-states. The Wyrmmes keep a large enslaved "domesticated" population of furres. Slaves are kept in line via the Wyrmmes' innate psychic ability. The furres, in turn, keep Bugges, insect people, as slaves. Out in the wilderness, furres live as free tribal hunter-gatherers. Unlike in Kasuria the Drakorian tribes tend to be a small handful of similar species, for instance, a tribe of big cats or a tribe of equines.
Wyrmmes eat furres because they consider them mere animals. Some furres will also eat Wyrmmes or other furres, as part of a religious rite of "absorbing their power". Some tribal furres also practice ritual eating of the deceased. This is considered "sennibalism" in most lands, the Furre equivalent of Cannibalism, and it is a capital crime everywhere but in Drakoria and assorted wild lands.
Drakoria's harshest regions feature tribes of "Taurians". They have furre-like torsos and matching quadruped bodies. Their heads resemble prehistoric creatures, so the Felitaurs are sabre-toothed, and the Wolventaurs look like dire wolves. Constant warfare between the Taurians keeps their population down.
The Olde-World is a "Mock Earth" focusing mostly on Europe and surrounding countries. Airships powered by coal and made from Bugge body parts are canon, as are other Steampunk accouterments. The well-established noble families known as the Greater and Lesser Houses are somewhat segregated by race and allow others not of the same race to marry in or join said house only if they follow the ban on carnivores marrying herbivores.
The god-like Primes can take physical form and at times run among the mortals. The Dark Primes and Light Primes mirror each other in abilities and themes; however, the Dark Primes are far more likely to be found at any given time than the Light Primes are. Whereas the Kasurians revere the Light Primes, nearly all Drakorians believe in the Dark Primes and have simply never heard of their Light counterparts.
Between the Primes and the Furres in power are the Mythicals: dragons, phoenixes, kirins, and more. They have very quirky abilities. For example, gryffes (bipedal gryphons) can transform into eagles.
Incidentally, the webcomic Dan and Mab's Furry Adventures was created by a Furcadia player called Mab as a reward for a favor received from another called Dan, but has since gone its separate way.
---
Fiction by Talzhemir:
---
This game provides examples of:
---
Common character tropes:
---