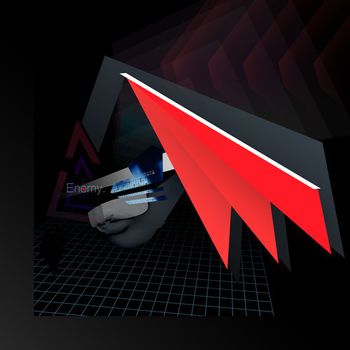 Ramona Andra Xavier (born August 19, 1992), better known as Vektroid, is a Portland based musician and visual artist. She has released over 40 albums since 2005 under a myriad of producer handles, spanning such disparate electronic genres as synthwave, IDM, musique concrète, ambient and breakcore. She is best known for being the Trope Codifier of Vaporwave as Macintosh Plus and that alias' album, Floral Shoppe. She has also conceptualized and produced all of the artwork and packaging for all of her releases.
Her Bandcamp
, Twitter
and Soundcloud
can be found here.
Discography
open/close all folders
As Vectorfray
Studio Albums
Omegalpha (Disc One) (2005)
From The Comfort Of Your Deathbed (2005)
Pentbüt (2005)
Hexakosioihexekontahexaphobia (2007)note
Singles/EPs
Ides EP (2005)
Bloodsample EP (2005)
For OCRemix's Evaluation (2005)
NolemN Single (2005)
The Wavefunction Collapse Session (2007)note
As Vektordrum
Studio Albums
Shitaihokansho (2008)
Unreleased Tracks (2008)
I, Banished (2009)
Deciphered (And Re-Encrypted) (2009)
Capitose Windowpane (2009)
Geese (2010) note
Discrét Night Signals (2010)
Trinity (2010) note
EPs
Hello Skypedals EP1 (2010)
Hello Skypedals EP2 (2010)
As Vektroid
Studio Albums
Polymind (2011)
Starcalc (2011)
Neo Cali (2011)
Color Ocean Road (2012)
Midnight Run (with Siddiq) (2016)
Big Danger (2016)
RE•SET (2016)
Vektroid Texture Maps (2016)
Telnet Complete (2017)
Seed & Synthetic Earth (2017)
No Earth (Upcoming)
Other Releases
Telnet Erotika (2010)
Starflight Iguana (2010)
Hot Neon Love (2010)
Planet Dudette (2011)
Polymind/Windows Safari/Sphinx Caverns (re-released as Polytravellers) (2011)
Toro y Moi - "Still Sound" (VEKTROID 'DENDRITE' Remix) (2011)
S27-069: SECTIONED 2.0 (2011, Guest Appearance)
Magic Fades - "Ecco" (Vektroid Remix) (2015)
As dstnt
Studio Albums
isÆ (2010)
Nsii (2010)note
Other Releases
Iss2 (2010)note
isoDMOS (2010)
Ntdrv (2010)
As New Dreams Ltd.
Initiation Tape Part 1 (2011)note
Initiation Tape: Isle Of Avalon Edition (2014)
Fuji Grid TV EX (2016)
Sleepline (2016)
Eden (2016)
Other Releases
Laserdisc Visions - New Dreams Ltd. (2011)
Fuji Grid TV - Prism Genesis (2011)
esc不在 - Black Horse (2011)
esc不在 - MIDI Dungeon (2011)
Tanning Salon - Dream Castle (2011)
Macintosh Plus - Floral Shoppe (2011)
情報デスクVIRTUAL - 札幌コンテンポラリー (2012)
Sacred Tapestry - Shader (2012)
PrismCorp Virtual Enterprises - ClearSkies™ (2013)note
PrismCorp Virtual Enterprises - Home™ (2013)note
Sacred Tapestry - Shader Complete (2016)
PALACIO DEL RIO - NO TITLE (With Siddiq) (2016)
CTO & Ray Shermannote - GDGA1 (2016)
Peace Forever Eternal - Nextcentury (2017)
Macintosh Plus - Sick & Panic (2019)note
---
Tropes by Vektroid include: