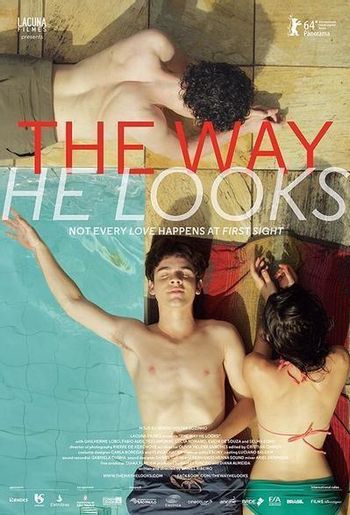 Leo, if you stole a kiss, how would you return it?
A 2014 drama film directed, written and co-produced by Daniel Ribeiro.
Leonardo is a blind teenager whose life isn't without troubles - he's bullied at school, has to deal with his overprotective mother, and then there's the fact he's not even had his First Kiss yet...luckily his best friend Giovana is always there to help.
In a bid to become more independent, Leo considers signing up for an exchange program abroad. However, the arrival of a New Transfer Student leads him to develop feelings he's never felt before, and throws his life-long friendship with Giovana into complete disarray.
Originally titled Hoje Eu Quero Voltar Sozinho (Today I Want to Go Back Alone), it was based on the short film
Eu Não Quero Voltar Sozinho (I Don't Want to Go Back Alone), by the same creator.
---
Provides Examples Of:
---