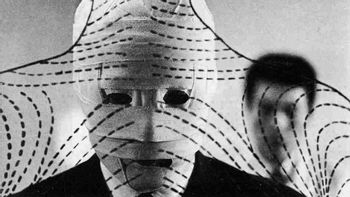 The Face of Another (他人の顔 Tanin no kao) is a 1966 Japanese film directed by Hiroshi Teshigara (Woman in the Dunes), starring Tatsuya Nakadai and Machiko Kyo.
Mr. Okuyama (Nakadai) is a man whose face and ears were burned off by liquid nitrogen in an industrial accident. He is pretty bitter and rage-filled about it, going so far as to tell his wife (Kyo) that he seriously considered destroying her face with acid so she'd be just like him. Mr. Okuyama sits and seethes about the hypocrisy of a world which pretends like appearance is no big deal when it actually is.
Eventually he meets Dr. Hira, a plastic surgeon who has the ability to create a flawless latex mask that will allow Mr. Okuyama to interact with the world as a regular person. Dr. Hira worries that being a completely anonymous person with a false face will warp Mr. Okuyama's personality, but proceeds anyway. Mr. Okuyama is delighted with his new face, and resolves to use it to seduce his own wife.
A second and completely unrelated plotline follows a young nurse at a mental hospital, who is heartbreakingly beautiful, except for the ghastly scar that covers much of the right side of her face.
Based on a novel by Kobo Abe.
---
Tropes: