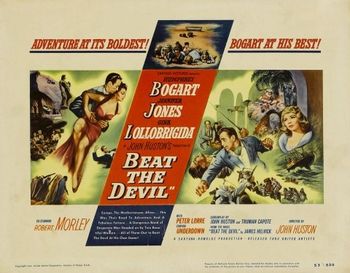 Beat the Devil is a 1953 film directed by John Huston, co-written by Huston and Truman Capote, starring Humphrey Bogart, Jennifer Jones, and Gina Lollobrigida in her English-language film debut.
Billy Dannreuther (Bogart) was at one point wealthy, having once owned an Italian villa and a restaurant, but he lost his fortune for reasons that are unexplained. Now he is working for three unscrupulous adventurers—Peterson the English crook (Robert Morley), Julius O'Hara who despite his name is German (Peter Lorre), and the generally mysterious Ravello. Peterson, O'Hara, and Ravello have engaged Dannreuther to use his contacts to help them acquire a tract of land in British East Africa that is believed to contain very very valuable uranium deposits. Dannreuther's employers are bumbling idiots, but they're murderous bumbling idiots, having already arranged the murder of a British colonial officer that they thought might expose them. Their hitman, Major Jack Ross, is accompanying the party to Africa, and looms as a very serious threat to Dannreuther if he steps out of line.
While waiting in Italy for a ship to Africa, Dannreuther and his comrades meet a British couple, Harry and Gwendolyn Chelm. Harry is a perfectly ordinary Englishman traveling to Africa to take possession of a coffee plantation that he's inherited. However, Gwendolyn (Jones) complicates things when she tells a fanciful lie that Harry's plantation has uranium deposits, which attracts the attention of Dannreuther's employers. Things get further complicated when Gwendolyn, who seems indifferent to her husband, falls in love with Dannreuther. Things are further complicated by the presence of Dannreuther's gorgeous Italian wife Maria (Lollobrigida), who falls in love with Harry.
---
Tropes:
---